Best Luxury SUVs for the Snow for 2023

For those of us that live in areas with a lot of snow, winter driving is by far one of the most compelling reasons to buy an SUV. Almost all SUVs offer all-wheel-drive at least as an option if not standard equipment, and the higher ground clearance comes in handy when the snow gets deep. That said, it's still a quality that we tend to think of in connection with more utilitarian vehicles, and it isn't always easy to figure out which SUV will handle the snow best when you're shopping for a luxury SUV. But today's luxury SUVs are more capable than ever – and that includes their ability to handle the snow, and the Rizza Auto Group has put together a guide to highlight some of the standouts in this area.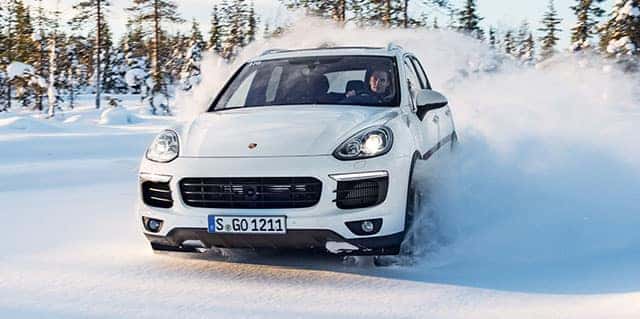 Porsche Cayenne
The Cayenne made headlines when it first debuted for being a shockingly good off-roader, not something that was expected from the manufacturer best known for sportscars. But here we are over 20 years later and the Porsche Cayenne is still going strong. The Cayenne handles snow just as well as it handles dirt and mud, and Porsche will even sell you a specialized set of wheels and tires made specifically for driving your Cayenne in the snow. On top of that, it's endless fun in any other weather conditions as well, and optional air suspension makes for an incredibly comfortable ride. Porsche gives you a huge list of configurations, trim levels, drivetrains, and a theoretically infinite choice of colors for the paint and interior. The optional Off-Road Package gives you even more capability, especially if you plan to mix snow with off-roading.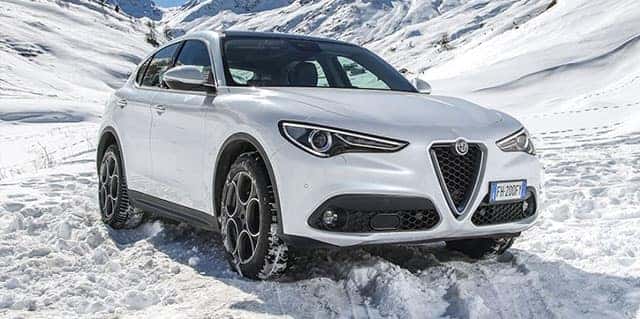 Alfa Romeo Stelvio
Alfa Romeo named the Stelvio after a mountain pass, and that's not the kind of thing you do unless you're extremely confident in its ability to handle snow. And for all the talk about how fast the Stelvio is on dry pavement, it is a very capable machine in the snow. All trims except for the base "Sprint" trim come with Q4 All-Wheel Drive as standard equipment, although the Stelvio Sprint can have Q4 AWD added as an option. Combine the Stelvio's sure footed handling with the available Cold Weather Package which provides heated front seats, a heated steering wheel, and heated washer nozzles, and you get some cold weather luxury for you and your passengers as well.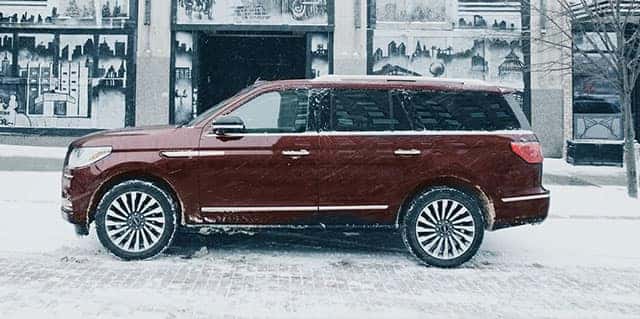 Lincoln Navigator
Fancy all-wheel drive systems are great and everything, but sometimes the best thing for handling snow is just a large vehicle that's really planted to the road. Combine the available 4-Wheel Drive with standard Lincoln Drive Modes for the ultimate in snow and ice handling. Lincoln Drive Modes optimize handling for 3 types of terrain – Slow Climb, for steep terrain, Slippery, for wet or icy conditions, and most relevant to this discussion, Deep Conditions, which optimizes the Navigator's steering, suspension, powertrain and torque delivery to tailor its ride and handling for all weather conditions – including deep snow.
The Navigator is Lincon's flagship model, and this really comes through in the styling, both inside and out. Comfort and a luxury experience were the focus when building the Navigator, and it delivers these in a way that an SUV built for performance would never be able to. Not that the Navigator is some kind of slouch, it comes with quite a bit of power, and the 0-60 times aren't something you would normally associate with something of this size.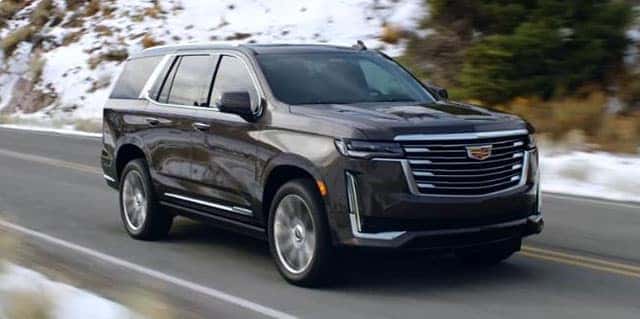 Cadillac Escalade
Much like the Navigator, the Cadillac Escalade offers sheer size as a means of delivering traction in the snow. In fact, the Escalade is even larger than the Navigator, especially when looking at the stretched Escalade ESV. Like the Lincoln Navigator, 4-wheel drive is an option here as well, and while Lincoln has retired the V8 option, Cadillac has not, providing a V8 Engine as standard equipment. An Air Ride Adaptive Suspension system keeps the ride smooth, and the available Electronic Limited-Slip Differential (eLSD) intelligently reacts to road conditions, maximizing traction on the road, such as during rain and snow or while cornering.