The Best 3-Row SUVs & Crossovers for 2023

If you've got a big family to haul around Chicago, you're going to need something larger than your average sedan or compact crossover. Here at the Rizza Auto Group, we offer a fine selection of three-row SUVs that can seat up to seven people. There's something for everyone, from modern luxury crossovers to traditional body-on-frame SUVs. No matter what your taste is, you're sure to find something that will look great in your driveway. Due to their popularity, we maintain an expansive inventory of these vehicles at all times, both new and pre-owned. There's never been a better time to buy a three-row SUV from the Rizza Auto Group.
The Best 3-Row SUVs At a Glance
| | | | | |
| --- | --- | --- | --- | --- |
| | | | | |
| | Cadillac Escalade | Ford Expedition | Lincoln Navigator | GMC Yukon |
| Base MSRP* | $79,795 | $55,125 | $79,725 | $57,400 |
| Horsepower | 277 to 682 | 280 to 440 | 440 | 277 to 420 |
| Max. Towing** | 8,200 lbs | 9,300 lbs | 8,700 lbs | 8,400 lbs |
| NHTSA Safety Rating+ | 4-Star | 5-Star | 5-Star | 4-Star |
| Max. Cargo Space | 121.0 cubic feet / 142.8 cubic feet (Escalade ESV) | 104.6 cubic feet / 121.5 cubic feet (Expedition Max) | 103.3 cubic feet / 120.2 feet (Navigator L) | 122.9 cubic feet / 144.7 cubic feet (Yukon XL) |
The Best 3-Row Crossovers At a Glance
Acura MDX

Buick Enclave

Cadillac XT6

Ford Explorer

Lincoln Aviator

GMC Acadia

Base MSRP*
$49,550
$44,800
$48,595
$36,760
$53,340
$36,500
Horsepower
290 to 355
310
237 to 310
300 to 400
400 to 494
228 to 310
Max. Towing**
5,000 lbs
5,000 lbs
4,000 lbs
5,600 lbs
5,600 lbs
4,000 lbs
IIHS Safety Rating***
Top Safety Pick+
N/A
N/A
Top Safety Pick
N/A
N/A
Max. Cargo Space
95.0 cubic feet
97.4 cubic feet
78.7 cubic feet
87.8 cubic feet / 144.7 cubic feet
77.7 cubic feet
79.0 cubic feet / 144.7 cubic feet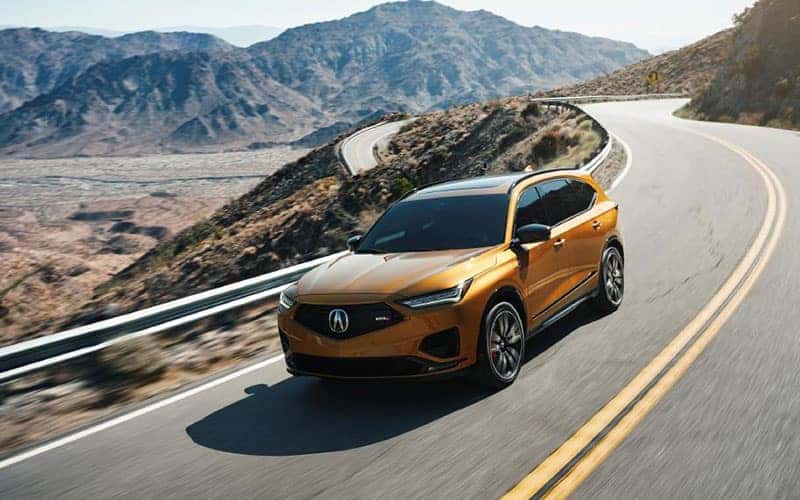 Acura MDX
Starting at $49,550 MSRP*
The Acura MDX features sleek styling, cutting-edge technology, and engaging driving dynamics despite its three-row SUV frame. Of course, there's also plenty of cargo room, too, with 95 cubic feet of space with the second and third row folded flat. The interior boasts a premium look and feel and heated leather seats are standard equipment. Options like the 16-way adjustable massaging front seats can make the Acura MDX feel even more like home. A large 12.3-inch infotainment display is paired with a 12.3-inch digital gauge cluster, with navigation as well as a Wi-Fi hotspot and a wireless smartphone charging pad.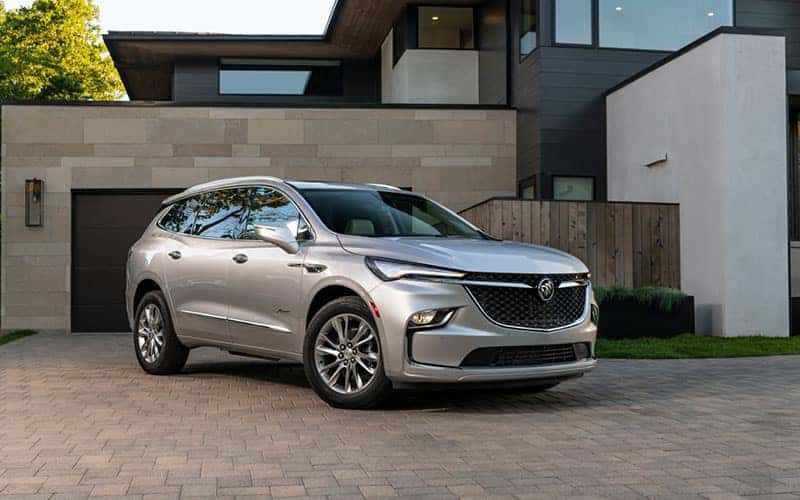 Buick Enclave
Starting at $44,800 MSRP*
The Buick Enclave may be stylish, but beauty is more than skin deep on this three-row crossover SUV. With a maximum of 97.4 cubic feet of cargo space, you'll be able to carry just about any combination of people and their gear that you can imagine. Standard driver assistance safety features include automatic emergency braking, lane-keeping assist, and blind-spot monitoring. A powerful 310-horsepower V6 resides under the hood, making passing maneuvers effortless despite the large size of this vehicle. In addition, the Buick Enclave can tow up to 5,000 pounds – just in case you need even more space.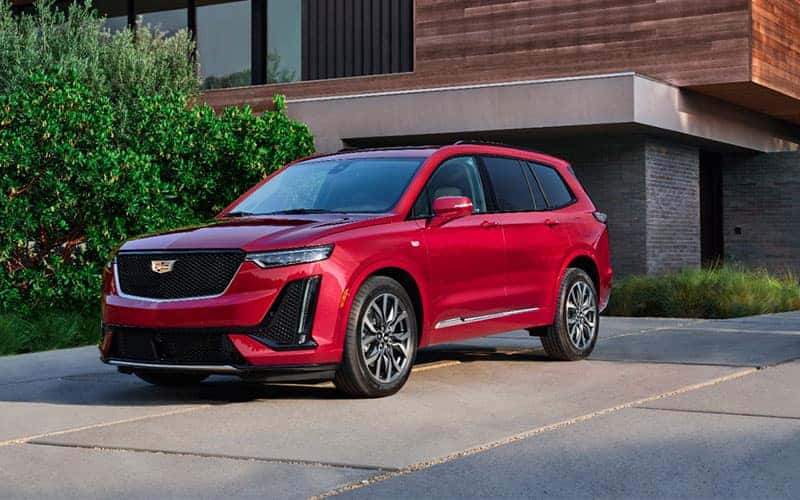 Cadillac XT6
Starting at $48,595 MSRP*
The Cadillac XT6 is a modern interpretation of the Cadillac SUV concept. Its crisp, hard-nosed styling draws immediate attention, and its comfort and features will endear it to you as the newest member of your family. If it's a big family, you'll be well-prepared. With an optional second-row bench seat, the Cadillac XT6 can seat up to seven in leather-appointed comfort. Of course, if it's just you and your favorite antiquing partner, you'll have plenty of room for that Baroque-style table with up to 78.7 cubic feet of cargo space with the second and third row of seats folded.
Cadillac Escalade
Starting at $79,795 MSRP*
Cadillac has built their sterling reputation for luxury SUVs on the back of the Escalade. The Escalade is the flagship model of the Cadillac lineup and boasts superior technology and luxury compared to the rest of the lineup. Given that we're talking about Cadillac, that's really saying something. The breathtaking curved OLED display measures an incredible 38 inches diagonally. Even though this is built like a classically rugged body-on-frame SUV, the new independent rear suspension provides improved handling and ride quality compared to previous models. Like a traditional body-on-frame SUV, though, there's prodigious cargo room, to the tune of 120.1 cubic feet with the second and third row of seats folded.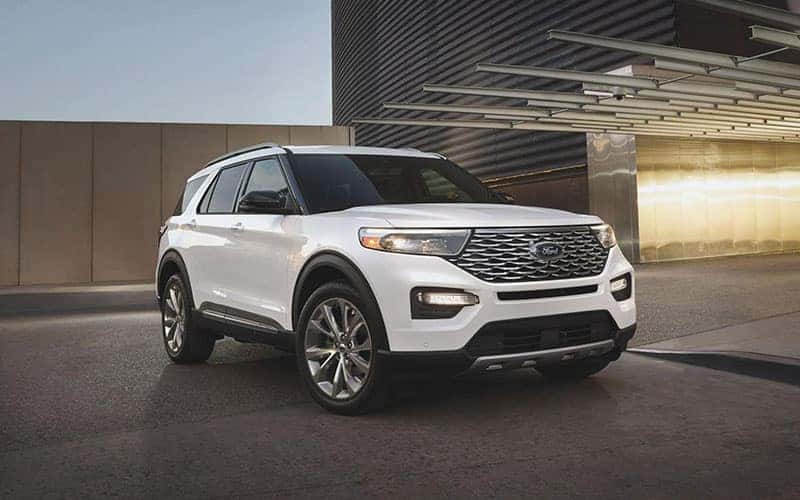 Ford Explorer
Starting at $36,760 MSRP*
Depending on who you ask, the Ford Explorer is largely responsible for the SUV craze in the first place. Drive the newest model and you'll see why people might say so. The Explorer effortlessly combines the rugged utility of an all-terrain vehicle with car-like comfort and driving dynamics. Speaking of utility, you'll find a maximum of 87.8 cubic feet of cargo room in the comfortable interior. An available hybrid model boasts up to 29 MPG highway fuel economy. Expect the unexpected with standard driver-assistance features such as blind-spot monitoring, rear cross-traffic alert, lane departure warning, lane-keeping assist, and forward collision warning with automatic emergency braking.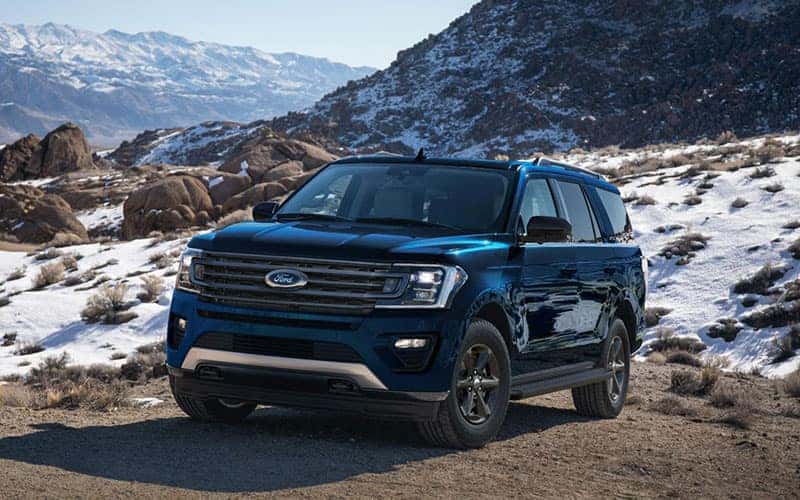 Ford Expedition
Starting at $55,125 MSRP*
For those who believe in the axiom that "Bigger is better," the Ford Expedition is a great choice. It's hard to disagree with that statement when the Expedition boasts standard features such as a power-folding third row seat, a 12-inch touchscreen with SYNC 4, a suite of driver-assistance safety technology, and a maximum tow rating of 9,300 pounds. With a massive maximum cargo capacity of 121.5 cubic feet, the cavernous cabin is practically large enough to fit a smaller SUV inside of it. That may be an exaggeration, but when you're talking about the big and bold Ford Expedition, everything feels like a bit of an exaggeration.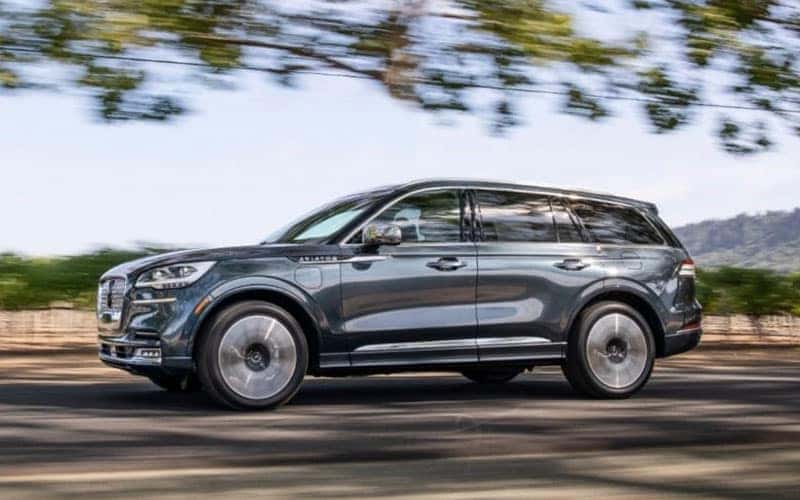 Lincoln Aviator
Starting at $53,340 MSRP*
Not many SUVs could be called "graceful," but there's simply no other word to describe the stunningly beautiful styling of the Lincoln Aviator. Inside, the promise of luxury made by that striking exterior is kept with rich leather and soft-touch materials, standard features including a 12.3-inch digital instrument cluster, a 10.1-inch center touchscreen, a Wi-Fi hotspot, and a host of driver assistance features. For those who demand even more luxury, other luxury options such as 30-way adjustable massaging seats and a Revel Ultima 3D 28-speaker premium audio system. For hauling goods instead of people, the Lincoln Aviator boasts a maximum cargo capacity of 77.7 cubic feet with the second and third row of seats folded.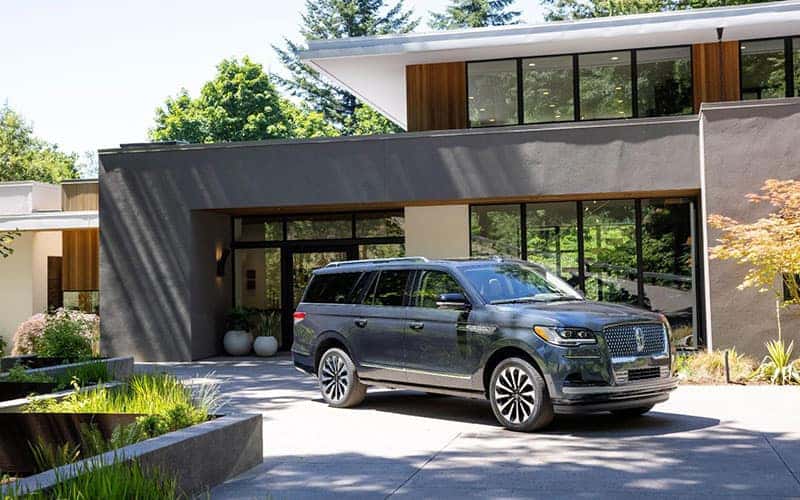 Lincoln Navigator
Starting at $79,725 MSRP*
The Lincoln Navigator is the brand's most well-known and well-loved SUV for good reason. It's powerful, comfortable, roomy, and packed full of features that put it a cut above other SUVs. The optional Active Glide semi-autonomous mode allows for truly hands-free driving, and a selection of different interior themes allow you to customize the look and feel of your Navigator with materials like open-pore Kai or whitewashed teak wood trim and leather with deviated stitching. Choose your theme carefully – it's a big decision. Quite literally, in fact, as the large interior of the Lincoln Navigator has a maximum cargo capacity of 103.3 cubic feet.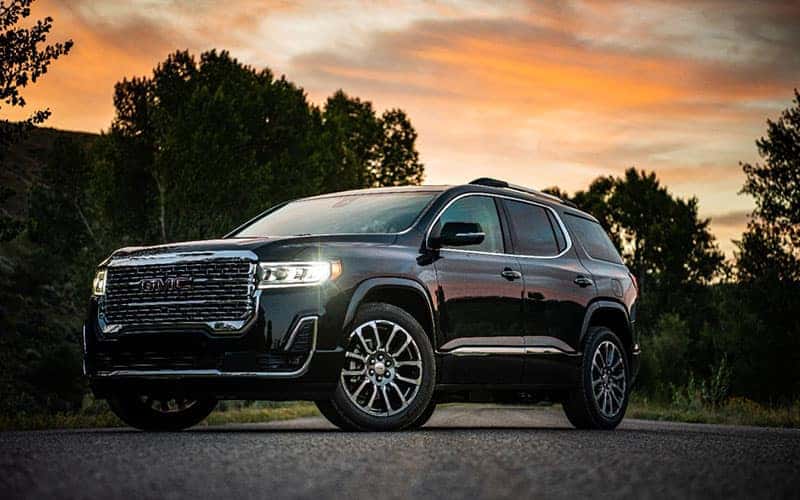 GMC Acadia
Starting at $36,500 MSRP*
The GMC Acadia balances its bold, truck-like exterior with its comfortable, car-like interior and driving experience. For those looking for a three-row SUV that doesn't drive like a bus, the GMC Acadia provides light steering and surprising maneuverability. While it may not handle quite like a sports car, you'll find the Acadia to be a great companion for errands or commuting. Speaking of errands, with a maximum cargo capacity of 79 cubic feet, you can get a lot of shopping done. With seating for up to seven, it's ideal for carpooling, too. The GMC Acadia is ready for just about anything you can throw at it – or into it.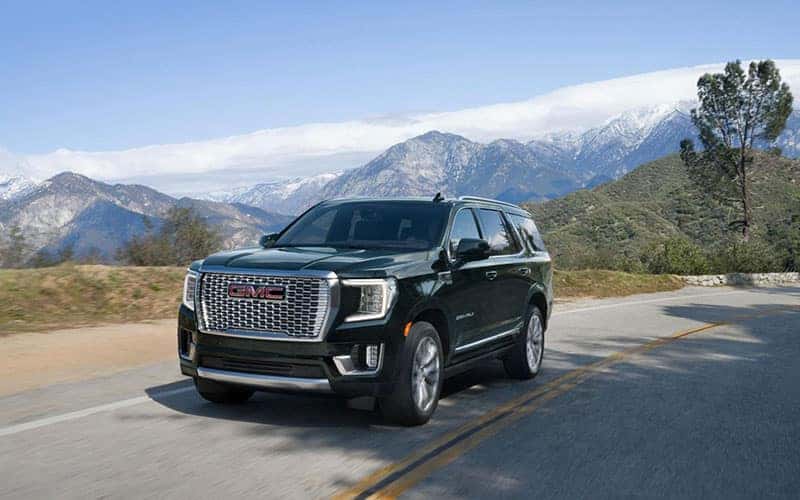 GMC Yukon
Starting at $57,400 MSRP*
Looking for a traditional body-on-frame SUV? The GMC Yukon and the extended-length GMC Yukon XL are ideal options for folks who demand the rugged capability of an SUV and need to transport lots of people and their stuff. How much stuff? Well, the Yukon has a maximum cargo capacity of 122.9 cubic feet, while the Yukon XL can lay claim to an incredible 144.7 cubic feet of space with the second and third rows of seats folded. When it comes to the Yukon, "traditional" doesn't necessarily mean "old-fashioned." For this generation, GMC ditched the solid rear axle in favor of a new independent rear suspension that's equal parts comfortable and capable.
*Price does not include destination charges, taxes, or fees. Manufacturer's Suggested Retail price (MSRP) is subject to change from the manufacturer at any time.
**Maximum towing capacity when properly equipped. May require optional selections.
***2021 and 2022 (where applicable) crashworthiness ratings from the Insurance Institute for Highway Safety (iihs.org)
+2021 and 2022 (where applicable) safety ratings from the National Highway Traffic Safety Administration (nhtsa.gov)